Introduction
Well, we are at the end of the year and I did a lot for newgrounds, with art, animations and games, so I think it is time to make a recap month by month looking at all I experienced and what to expect in the future with my newgrounds account.
January
When the year started I decided to show a random drawing of my oc Lucy who I haven't created a good story for her yet but I'm still thinking on it, as my art has been changing real fast it looks strange for me to see, so I think it is a good moment to show her doing something again in one of my drawings.
Pixel day was amazing and the second newgrounds event I participated, with a game collab called pixelgrounds hosted by @Pomegranite I managed to create some art for the picross puzzles and some of them went to my own art, the newgrounds book, which earned an incredible amount of visits!!!
To end this month I started a challenge made by @DoctorGrambo called messypaints challenge where I have to create a piece each month based on a theme, improving my skills from time to time, here's the art of that month.
February
On february I made a banner for @Balloonshroom to commemorate his first anniversary on newgrounds, which won the contest he made.
then I worked on the second drawing for the messypaints challenge.
March
I started this month by showing my art during the super raft boat art contest, it was interesting and the game kinda fun!!!
Then I finished my drawing of psyca, planned for october of the last year but I didn't managed to finish it until March because of school xp
The NGPR discord server got hacked and people started a collab of bad creepypastas so I decided to join on a gorey adventure to make a cursed bbt story with a drawing proving it is real!!!
Like always I finished the month by showing the messypaints challenge art of the month
April
I started the month by celebrating my first anniversary, yeah I created my account on april 1st because of a joke but then I fell in love with this website.
Then I made the 9th annual AIM contest promo art hosted by @Random-storykeeper I'm very happy to be part on the cover of an album!!!
Also I want to give a shout out to @Quarl for giving a great review to my artwork
After that, another collab game released, the trophy collab hosted by @Mabelma where I made five trophies and the art for the shelf.
During april fools, there was a dank tank art contest where I also participated because why not?
Also, @TomFulp made that event to show the new pfp borders, and after telling him that Plufmot was in the profile picture party banner twice, he put me in, now I'm part of newgrounds history!!!

You know how I end the month, yes, with the messypaints challenge art of the month and one of the bests.
May
May was short but I got my first drawing tablet which my best friend gave me so I decided to make more art!!!
Including the messypaints challenge art of the month for @Peruan123 birthday
June
For the first time in my life I decided to make a small animation, featured on the life and death of boe collab by @Graeme , it was good, so my next ones will be better I'm sure.
Then pico day started and I managed to help on another picross game collab!!! now by @Karlestonchew , with a green knight drawing from castle crashers.
Sadly there wasn't any messypaints challenge art for this month because of school and other projects.
July
I worked on a new design for Lucy but now I understand that I like to do more scenery than just characters so I will work on that in the future for my oc's.
Two messypaints challenge art I made this month, one for June and the other one for July
August
This month started with art for @Party-Machine 's video "the search for the strange grenade launcher"
My birthday came and I decided to make a new pfp of me becoming a clown!!!
I helped on my first movie project, clocks of the BBS 2022 by @Little-Rena , where I made a pixelart gif of nyogoron clock.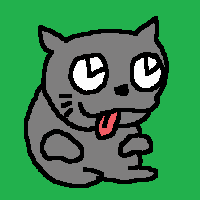 I made more art, one for my brother and other for the cult of the lamb art contest, improving more and more my artstyle.
September
This month is special, I drew a cute cat for my best friend's birthday and for me it is the most rated of all my works so far so I'm happy with the results!!!
This drawing also was featured on the cute cat collab hosted by @taka
We will not forget the creature collab by @OneDude20 where I made my own creature!!!
October
I posted my last messypaints work, yeah I decided to stop working on them because of time, but this one went really good and Doctorgrambo liked it!!!
Eg is one of the last works made with my first drawing tablet and I really appreciate the result as it was something I really wanted to remake.
Another collab ant he last game of this year!!! now I made a face for the faces of 2022 collab by @Dungeonation
November
This month was dark as my first drawing tablet broke and I couldn't work on something rather than make an instagram account so please check it out (link) I will post more of my art soon!!!
December
On December I worked on some commisions I made during a school event experimenting with the vectors tools of my drawing program, I think it went well (?)
Finally my last project, an animation for the sketch collab by @midgetsausage this one was huge and I'm very happy to be in there showing how much I've improved with my animation.
Final thoughts and the future
This year was amazing, with lots of people I have worked with and made friends, participated on lots of epic collabs and working on my own art.
I want to make some shoutouts because without them, I wouldn't go so far.
@DemisurgeArchives for showing me the community side of newgrounds
@Taka for proposing good game projects and being positive
@CJspellsfish for letting me play early her crate breaker game
@KingCrowned for appearing everywhere
@Ant for being such a funny guy with his fat fish character
@Kasekit for being such a cool friend and suggesting ideas
and all the 229 fans that are the reason which I keep going with my dream of becoming an artist
So what are the plans for next year? well I got a new drawing setup so I'll keep working on my art!!! sadly January and maybe february I will not be so active as I'm near graduating and I'm trying to apply to a university so wish me all luck and I'll see you next year with more collabs, bigger art, and more of my oc's doing something.
Happy new year!!!